As of 2020, 72.3% of Americans used some form of social media, whether it was Facebook, Twitter, Instagram, Tiktok, or a combination. The sheer number of people using these platforms - a whopping 240 million - makes them a goldmine of marketing potential. And there's a good chance that a large majority of those people are in need of some form of healthcare, whether it's specialized or a general practice.

But with so many different ways to promote social media engagement, including videos, ads, discussion questions, and memes, it's hard to know which one is the most effective. For healthcare providers, the struggle is even harder. What they need most is a surefire way to convert potential patients into real ones that will walk into their clinic.

What's the solution? It's simple: doctors, clinics, and other healthcare providers need to use a healthcare booking and appointment system. With this software, they can boost social media engagement and increase patient numbers.

How Does A Healthcare Scheduling And Appointment System Improve Your Social Media Engagement?

Using scheduling software such as a booking app allows patients to schedule an appointment at your clinic from the comfort of their own mobile device. They choose from the dates and times that you set, enter their information, and voila: they're instantly booked to see you at their preferred time.

The beauty of this type of system is that you can share your booking website on your social media or email to your network. This means that new patients don't have to call to set up an appointment and possibly be placed on hold. They can also make their appointment after your office hours, instead of waiting until the next business day.

A booking app is fast, it's convenient, and it's social media friendly. When you post it to your Facebook, Twitter, or Instagram page, your followers will see it and begin to use it. Then they will share it with their friends and family with the click of a button. You can also promote the post to ensure that it's seen by more people outside your circle of followers.

Now you've killed two birds with one stone: you've improved your social media outreach and grown your number of patients, all with a single, intuitive app.

Why Is MYCURE Booking Better Than All The Rest?

A user-friendly, professional scheduling software will not just act as a booking service. It will also automate your schedule and send out reminders, keep all your patients' information organized and easy to access, and accommodate both face-to-face as well as telehealth visits.
In other words, it won't just be a booking system: it will be a healthcare management solution.

That's where MYCURE Booking leaves similar apps in the dust. While others are just regular booking apps, we provide a customized solution that makes life easier for doctors, clinics, and all healthcare providers who are trying to grow their practice. We make it possible for you to improve your management strategies to become better than ever, both internally and in your interactions with patients.

Here's how it works:
The doctor or clinic gets a free booking website through MYCURE, which they can then share in social media and/or email the URL link (website) to friends or network professionals to grow patient engagement. Below is a sample of what your free site will look like.

One will get a URL link like this:
https://www.mycure.md/doctors/docjean

Copy it and start sharing! Whoever clicks it will show your Own Booking Website (see sample below).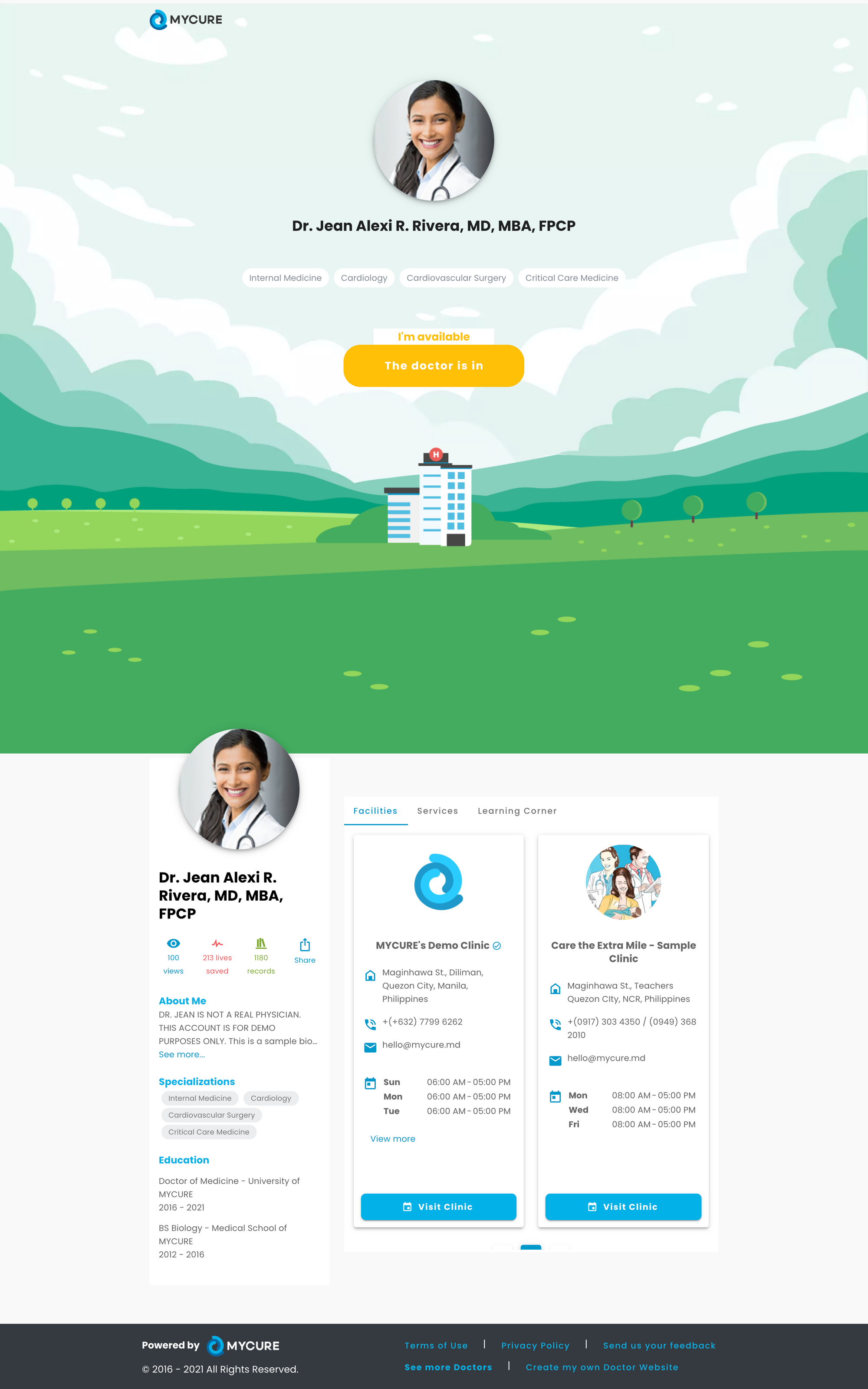 Whether your clinic is small, medium, or large, a MYCURE Booking system will automatically schedule and organize all your patient appointments. That way you can spend less time worrying about getting more patients, and start dedicating more of your hours to providing quality care.
Want to learn how to easily set up your MYCURE Booking App? Click here.

Start using MYCURE for free today!